Get notifications about your Planner task assignments in Microsoft Teams
Check out this super cool announcement by Microsoft of the availability of Planner notifications in Microsoft Teams. So I am a big 'No more email guy' and these notifications ensure you won't have to leave Teams to stay on top of your work, which is where I am during the work day.   Microsoft heard our collective feedback about using the Planner tab in Teams (or the hub for everything 'teamwork' in Office 365) and have ramped up the Teams-Planner experience with providing an out of the box feed for Planner with notifications.  Just another reason to ditch emails.  Check it out below and contact us with any questions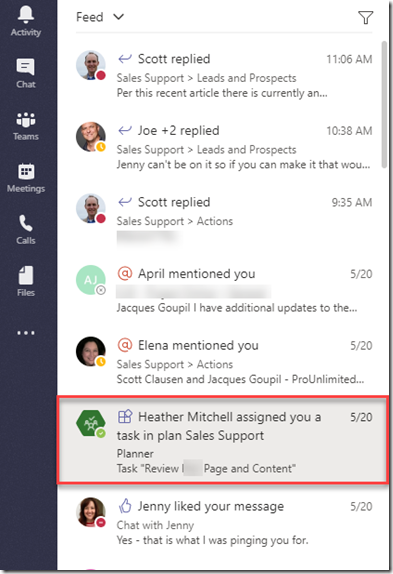 Thank you to Joanne for posting this…
Starting today, if you're an Office 365 Enterprise or Office 365 Education customer, you'll receive Teams notifications whenever you're assigned a Planner task (so long as that Planner plan has a tab in Teams).
Your assignment notifications will appear in your Teams Activity feed and the Teams Chat pane and contain the following details:
Task title
Who assigned the task to you
Which plan the task belongs to
Link to open the task details in Teams
You'll receive Teams notifications no matter where your task is assigned from, whether that's the Planner mobile app, Planner on the web (tasks.office.com), or our SharePoint web part.
Teams notifications appear in your Activity feed…
…and in the Teams Chat pane.
Teams notifications are not replacing Planner's existing mobile push and email notifications. You'll continue to receive both in addition to the notifications in Teams.
You should start receiving these notifications automatically, but if you're not, you can enable them manually by going to the Planner web app, selecting "Settings," and then "Notifications" under "Planner settings." Check the "Someone assigns as task to me" box if it isn't already selected, and you're set. Remember, you'll need to have your plan as a Planner tab in Teams to receive Teams notifications for it.
You can read our support article for more information about Teams notifications for Planner assignments. The article also provides details for turning off these notifications.
We always love hearing your feedback on new features. Leave us a comment below about your experience with this feature and other notifications you want to receive from Planner in Teams. You can also engage with fellow Planner users at our Tech Community page and help us decide what features to build next by voting on our UserVoice site.
Get the full link at https://techcommunity.microsoft.com/t5/Planner-Blog/Get-notifications-about-your-Planner-task-assignments-in/ba-p/570144