Microsoft Portfolio Toolkit v1.1
Your Complimentary Microsoft Portfolio Toolset v1.1 is ready for Download.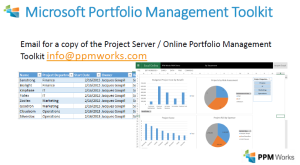 Yesterday we delivered the Project Online and Project Server 2013 webcast (Portfolio Management made easy with Project Online/Project Server 2013) for Microsoft as a part of their monthly Project Webcast Series.
Did you miss this session?  Check our upcoming events and register for our next session.
Thank you for your attendance and kind words, please continue to send us your feedback, here are just a few comments we thought would be helpful to share:
"Thank you again for a great presentation…this presentation was an eye opener.  PPM Works has 'shown us the light' and made Portfolio Management a reality at my organization.  2/17/2015
"Well done … a great webcast.  Looking forward to your next one in February." 2/17/2015 1:35 PM
"I always enjoy your presentations.  You make it easy to understand – even the toughest of topics.  Looking forward to using this knowledge you have shared with us. Great job."  2/17/2015 1:38 PM
"Presenter was very informative and maintained a good pace. Would love to see him do a session about using the Strategy tools (drivers and portfolio analysis in PWA)."  2/17/2015 2:11 PM
"Loved this one! And the ties between SharePoint and MS Project. 2/17/2015 2:16 PM
You can download your copy of PPM Works Portfolio Toolset today.  Do you have additional questions or comments?
We offer mentoring, training, starter kits, and our expertise – contact us at https://ppmworks.com/contact/
Enjoy
The PPM Works Team