Project Online Proof of Concept
Get started on your Microsoft PPM journey with a Project Online Proof of Concept today. Experience why over 20 million people choose to use Microsoft Project for their Project Management needs.
Launch Your Proof of Concept Today
Kicking off a PPM Works Proof of Concept for Project Online is a quick and straightforward process. There are four core focus areas that come standard; Project Visibility, Team Collaboration, Power BI Reporting and Project Security. We recognize that every organization has distinctive challenges which is why we offer additional focus area options. Together, during a consultative session, we will review your business goals and choose the focus area options that align. The engagement then kicks off with envisioning sessions. These sessions are designed to talk through your processes and the best configuration for Microsoft Project. After your Project Online environment has been configured we will be with you every step of the way with weekly calls and workshops to ensure you and your team are successfully using the tool. Typically, the engagements run from two to four weeks depending on the focus area options chosen.
The Project Online Proof of Concept (PoC) effort will provide the workflow and configuration necessary for key decision makers to see and understand how leveraging Project Online will increase governance and efficiency, while highlighting future Project Online functionality. The PoC goal is to provide one centralized solution.
Why Choose Project Online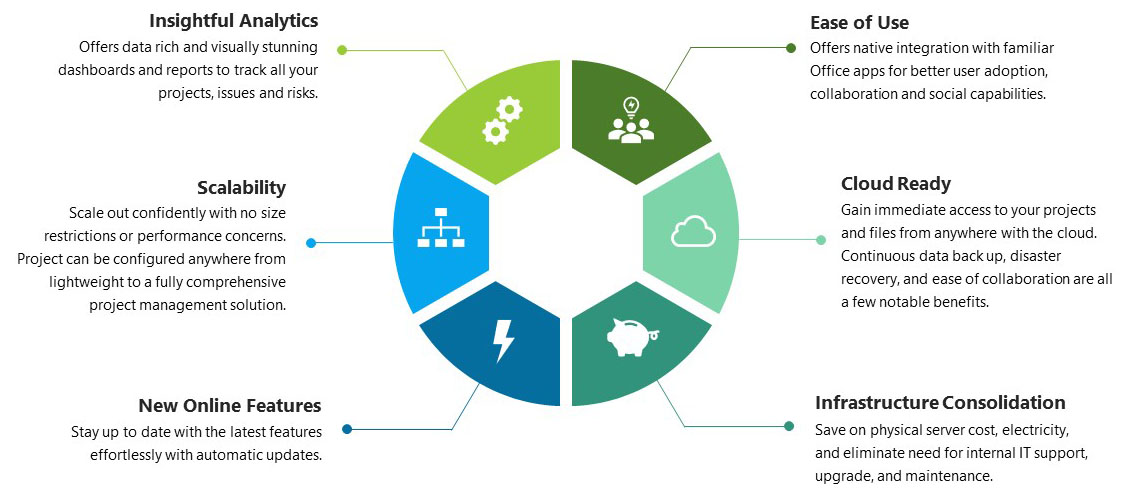 PPM Improves and Increases Visibility Into Project Performance
Office 365 PPM delivers ROI of 387%​
Reporting efficiencies resulted in a 60% times savings for project managers​
Increased project visibility improved resource utilization and led to an 83% reduction in overtime costs​
Migrating to a cloud-based SaaS PPM solution allowed organizations to save $162,000 annually​