Microsoft Project and Project Server Training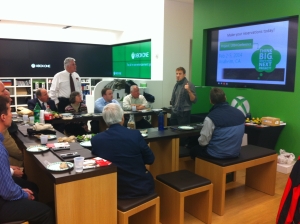 We are here to serve you.
Want the best training you could receive?  Our team has developed Microsoft Project and Microsoft Project Server training for over 15 years.  Our Hands-On sessions and proven curriculum cover Project and Project Server 2013, 2010, or 2007.  Each course covers just the correct amount of knowledge for you and your team.  Our knowledge was recognized as we teamed to create two Microsoft Certification Exams (Project 2013 and Project 2010).  We continue to provide flexible, hands-on training to our clients and training attendees.  Need Microsoft Project knowledge or training – contact us.
PPM Works brings their proven training curriculum and methods to you.  Many clients take advantage of our on-premise training deliver providing the necessary forum to align all training methods across your organization.  Leverage the dedicated expertise of our onsite trainers.  We enjoy working with you and your organization in your environment.
PPM Works brings their successful onsite courses to you via the web.  Over the years, we have worked with our clients to provide the same quality Microsoft Project courses over the web as we do face-to-face.  In fact several, our trainers have delivered several global online training courses while saving travel costs.  With today's convenience of technology and PPM Works' methodic training approach – you found your recipe for successful training.
PPM Works trainers have been creating Microsoft Project and Project Server training since 1999.  We have developed customized training for fortune 100 companies as well as small mom-n-pop local businesses.  We are dedicated to delivering the most straight-forward easy to understand and learn courses in the industry.  Leveraging our experience, we understand how to deliver the most effective Microsoft Project and Project Management training classes.
I wish we would have found PPM Works a long time ago – you make Microsoft Project understandable for all.
I've attended several industry webcasts, conference sessions, and vendor meeting – this week's MPUG webinar certificate series on Microsoft Project (Online, Server, and Professional) was by far the best and I found it very useful – thank you.
Thank you for the information share today! You are so knowledgeable and a gifted presenter/teacher.
Your Microsoft Project 2013 seminar series on Reporting was JUST WHAT WE NEEDED.  I wish we had folks with your command of Project Server Reporting.  Thank you very much!
Great session on reporting for Project Server 2013.