Why Don't My Calculated SharePoint Fields Show in Flow Dynamic Content List?
If you use Microsoft Flow to create and/or copy values into SharePoint lists, you may have noticed that calculated fields from the SharePoint list do not always appear among the Dynamic Content fields you can select. This is because Flow prevents these fields from being used for all field types.
When you try to select a field to copy into the list field on the Create Items screen, Dynamic content will show, but not include all fields: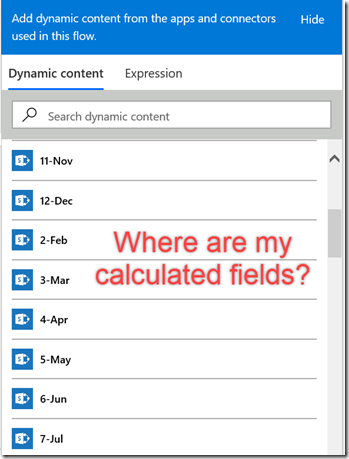 This was a real head scratcher for me, as I needed to get a calculated field that included tax into the destination list, yet wanted to avoid doing another calculation in Flow if I could help it.
Well, there's a handy workaround. I noticed that when I was in text fields, all of my SharePoint list fields appeared as choices in Dynamic content: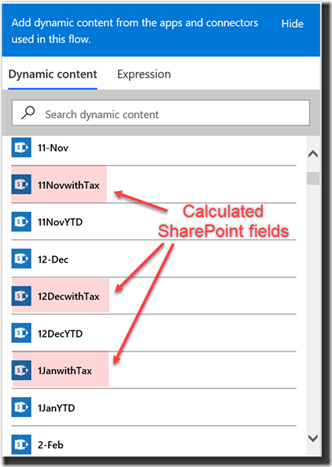 So I tried something sneaky: I selected all the fields I needed and inserted them into one Text field, then I cut and paste them into each of the destination fields in which I really needed them.
Insert, then Cut from here:

And paste into here:


Voila!
Go forth and Flow!