PPM Works Bulk Calc and Publish Add-In

Welcome to the PPM Works Bulk Calc and Publish add-in. Use this helpful add-in to schedule automatic recalculation and publish of all flagged projects. This is particularly helpful if you use calculated fields with the current date "Now()" function. With this add-in you can schedule your projects to be calculated and published saving you time and manual effort

Instructions:
Set the Auto Publish field to Yes on all projects that you want to auto publish. This is easily done via the Project Details page in PWA.  Note: This app has added the "Auto Publish" custom project field and Lookup Table – you/your admin does not need to create this field.
Enter the Schedule Time.  Select the frequency (Monthly, Weekly, Daily, or Hourly), occurrence, and time.
Enter an email address in the To Address field to receive an email notification upon completion of the scheduled job. You may list an individual email or a group email addresses. When multiple email addresses are entered, use a comma (,) separator for email address. To remove email notifications – just remove all email addresses from the To Address field.
Click the Schedule button to schedule, only one schedule is allowed.
Note: If you change any of the Scheduling Options (step 2) you need to click the Schedule button (step 4) to save your changes.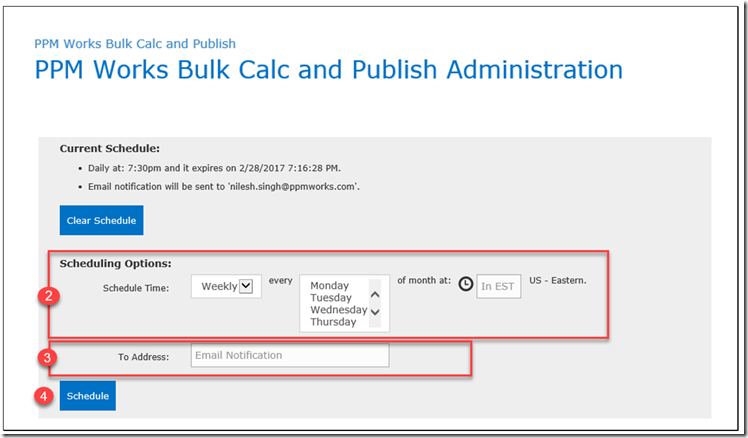 Current Schedule:

The Current Schedule section displays the frequency and occurrence for the timesheet reminder emails. Use the Clear Current Schedule button to remove the current schedule or stop the timesheet reminders for being sent


Buttons:

The Clear Schedule button is used to remove the currently schedule time.
The Schedule button when the timesheet reminder email will be sent based in the information.
Feedback and Questions:
Please click here to request this app

For additional questions, contact support@ppmworks.com. Please provide any comments on this post or this add-in.