Project Roadmap Announcements
Look here for all Microsoft Project Roadmap announcements:  http://office.com/roadmap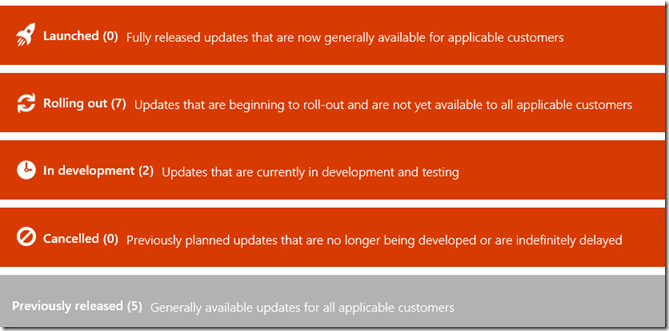 Rolling out (7)
Apps for Project Pro for Office 365 will be able to write-back and update the project plan.
Resource Managers can benefit from configurable color coded heatmaps to better predict the utilization of   their resource pool in Project Online. These heatmaps will also support seamless drill-down capabilities all the way down to individual resources and their assigned projects.
In Project Pro for Office 365 you will be able to create multiple timeline bars within the Timeline view. You will also be able to set a custom date range for each timeline bar in order to just highlight a certain time period of the project in the Timeline view.
Office 365 user purchases is a new feature designed to enable users to get the software they need. Using this new feature an individual in an organization will be able to purchase and individually own a subscription to additional software including Office 365 Pro Plus, OneDrive for Business, Visio and Project available via the Office 365 store.
Project managers, working in Project Pro for Office 365 can systematically place resource requests in order to build their project teams.  Soon thereafter, Resource managers working in Project Online will be able to view, modify, accept or reject those requests. Also, decisions made by Resource managers  will be available to Project Managers within Project Pro for Office 365 to review and plan accordingly.
See our great webcast on this:  ADD WEBCAST LINK
In Project Online, team members can opt-in to receive email notifications. Team members will receive email alerts whenever a new task is assigned to them. They will also receive daily email reminders with a list of tasks that are upcoming or overdue.
This feature will enable users to define a readable Project ID per Enterprise Project Type. On project creation, the Project ID will be auto generated.  The Project ID can be added to Project Center, Project Detail Pages (PDPs) and in reports.
In Development (2)
Project Online Onboarding
New FastTrack Center onboarding for the Office 365 workload of Project Online. FastTrack Center will begin offering Project Online as a workload covered by the FTC. All existing eligibility requirements will be maintained.
We've improved the timeline view in Microsoft Project so you can now have multiple timeline bars in a single view and you can set the date range for timeline bars so they can just represent a specific phase of your project. To try this out, click on the timeline and then go to the Format tab. Note the new Date Rage and Insert Timeline Bar commands.
Previously released (5)
Workflow creators in Project Online can bulk update project custom fields with a single service request. Previously, each custom field update required a separate service request. This results in much faster transition between multiple demand management phases. More Info
Through effective use of demand management workflows in Project Online, you can decouple project site creation from project publishing. This results in Project advancing to the next stage in the workflow much faster.
A Project Web App (PWA) admin can now configure if a Project Site gets created for any new project. If teams do not plan to use the Project sites, turning off this feature can greatly improve the time it takes to create and publish a project. This also allows users to move from one Project Detail Page to the other faster. Also, with the option to turn off Project Site creation for any project, customers can now manage up to 5000 (previously 2000) projects per any site collection within Project Online.  More Info
By turning off the Task List Sync for enterprise projects, you will find that publishing a project is much faster. It will also help you navigate to the next Project Detail Page faster and generate your latest project status report lot quicker. This option can be accessed from the Connected SharePoint sites page. More Info
You can now benefit from up to 7 site collections with Project Web App (PWA) within any Project Online tenant.