Project Server 2013 View Failure
View Failure – The view failed to load.  Press OK to reload this view with the default settings. Press Cancel to select another view.
Have you been getting this view failure warning?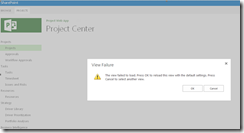 Here is the link to the April 2014 CU that claims to resolve:  http://support.microsoft.com/kb/2863881
Some clients may not want to implement CU's or wait the SharePoint team's direction on implementing CU/SPs.  There is an alternative to the April 2014 CU which is to tailor a SQL Script described here: http://blogs.technet.com/b/projectsupport/archive/2013/12/11/project-server-2013-error-loading-views-if-the-default-view-is-missing.aspx
Thanks Scott for the research on this topic.
Have questions?  Leave a comment or reach out to us here:  https://ppmworks.com/contact/
Project Server 2013, View Failure, Error, CU, SP, Updates
---
PPM Works is a full service Microsoft Project and Portfolio Management consultancy, focused on Microsoft Project Server and Microsoft SharePoint platforms.  We believe in partnering with our clients to exceed expectations and build long lasting rewarding partnerships. We are continuously building a knowledge base of multiple tips, tricks and solutions to make your use of Microsoft Project Pro as quick and easy as possible. Contact us for more information.
Stay updated with the latest of Project Online/Server 2013 with us: Subscribe. Check our future events!
Subscribe to our webcast email list for updates on our upcoming webinars! 
Visit our FAQ Page for access to our tool box.