Working Offline in Project Server
Project Managers have the ability to work on projects offline, make changes and then upload those changes to the server. The key to successfully uploading your changes back to the server is following the steps outlined below.
The first step is to take the project offline. The project is stored in the cache on the computer you are using when you take it offline.
Open Project Pro connected to your server environment
Open the project schedule you wish to take offline
Complete edits, save and publish
Select File
Work Offline
Note on the Status Bar the X on the world globe – if you hover over it the tool tip will note you are working offline
When you are finished working on the project, save your changes and select File
Close
Do not check the project in – this is a critical step
To continue working on your project offline:
Open Project Professional, choose the server profile and select Work Offline
Double click on the project schedule to open (note since you are working offline retrieving a list of all projects from the server is not an option)
Edit the project, save and close remembering to keep the project checked out
To bring your project back online:
Open Project Pro and connect to Project Server (do not select Work Offline)
Open the project from your cache – this is the only version that can be brought back online, if you select Show me a list of all projects you will loose the edits you made offline
Save your project – your edits will be uploaded to the server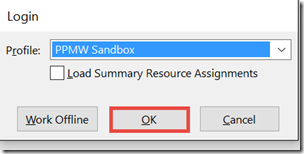 You cannot add new enterprise resources to projects when working offline, however you can assign existing resources to tasks in the project. No one else will be able to edit your project when working offline.
As a best practice you should alert your Administrator that you are working offline so they do not perform a force check in on the project. A force check in will result in data loss.
Hope this helps. Please contact us with questions.