Updating Project-Level Fields for Multiple Projects at Once
The development team at  PPM Works created a macro to assist me in uploading multiple projects from a Project Online production environment to a Project Online dev environment. Fluent Pro Fluent Books is a great tool for this very purpose but my client chose not to purchase the tool. Unfortunately not all the project-level custom fields were coming over with the projects. It would have been very time consuming to open 50 projects one by one and update each field so I used a short cut instead.
From Project Center select up to 25 project rows, click open in Microsoft Project for editing
Wait for all selected projects to open in a temporary master project
In the Task Sheet view, add columns for project-level custom fields
At the project level set the custom fields
Close the temporary master, do not save the temporary master but save all real projects
Repeat this for other batches of 25 projects
In the screenshot below, I inserted the project-level fields in a Task Sheet view and removed all the other fields from the view so I could quickly update the projects.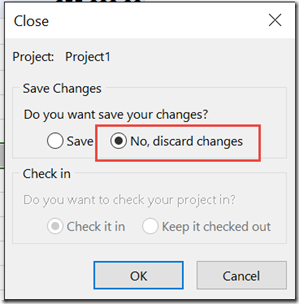 Close the master without saving but select Yes to All to save the changes to the real projects.
Hope this helps! Please contact us with questions or feedback.