Saving a Project Site as a Template
PPM Works creates project site templates for customers during Project Server/Project Online deployments. Recently when I went to to save a site as a template on our demo environment, I noticed the link was missing.
It should be visible under Site Settings
Site Actions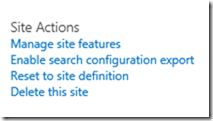 As a Site Collection Administrator I have permission to save sites as templates. After a little bit of research I found that if certain Site Collection Features are activated you loose the ability to create a site template.
From the Home Page Site Settings open Manage site features.
Note the following feature is activated:

Before deactivating check with your SharePoint Administrators. This feature may be necessary for certain scripts to run.
Hope this helps! Please contact us with questions.