Project Professional 2013 Checking for Updates
You can also have Project Professional 2013 Check for Updates by going to the backstage Account and clicking on the Updates Options button.
First – Close All Office Applications (except Project Professional) – or you will have to when you try to install the update.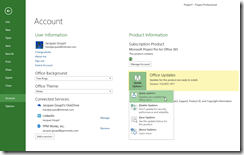 Click Yes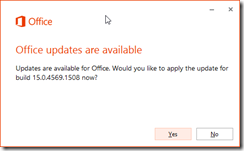 You will need to close all your Office apps or you will get prompted to (see below)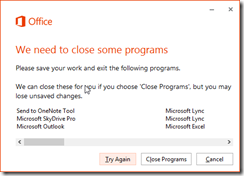 If you choose to have it Close Programs (you may lose any unsaved work – so it is recommended to close all programs yourself).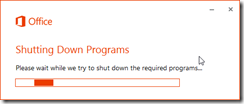 If you know the SP you want (for example Project 2013 SP1) you can download that directly.  See our other detailed blog on Project 2013 SP1.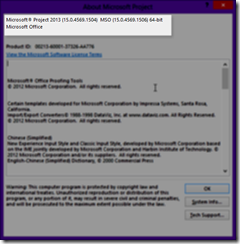 This was an example of having Project Professional 2013 Check for Updates
---
PPM Works is a full service Microsoft Project and Portfolio Management consultancy, focused on Microsoft Project Server and Microsoft SharePoint platforms.  We believe in partnering with our clients to exceed expectations and build long lasting rewarding partnerships. We are continuously building a knowledge base of multiple tips, tricks and solutions to make your use of Microsoft Project Pro as quick and easy as possible. Contact us for more information.
Stay updated with the latest of Project Online/Server 2013 with us: Subscribe. Check our future events!
Subscribe to our webcast email list for updates on our upcoming webinars! 
Visit our FAQ Page for access to our tool box.