Project Is Missing From Change or Restart Workflows Page
PPM Works was onsite this week delivering training and providing support to one of our customers. The Admin was trying to change the Enterprise Project Type for a project she had just uploaded to the new environment using Project Pro.
She could see the project in the Project Center Views and in Project Pro but when she went to Server Settings
Change or Restart Workflows the project was not listed under any of the available project types.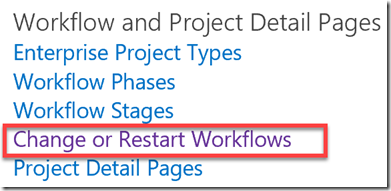 It should be visible under the default Enterprise Project Type.
When projects are checked out for editing they are not listed. The project must be checked in before you can edit the Enterprise Project Type.
Once the project was checked back in, she was able to select it and successfully change to the project type. Mystery solved!
Find this helpful? Make sure to email Subscribe to our Blog