Office 365 License Renewal
Have you been experiencing some messages regarding "Your subscription has expired".  If so you will need to reach out to your Office 365 Admin however before you do that – TRY SIGNING IN with your active account.
You may be seeing these messages, as Office 365 works on a subscription basis and sometimes your Admin will need to re-subscribe or change subscriptions based on a cloud subscription change.
1) Try signing in with your corporate user id and pwd.  For example, I am signing in with my @ppmworks.com account.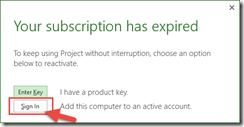 2) This will mostly resolve the issue and you will be good.  Now you may need to do this with other MSFT applications.  For example, I received a message this morning from Lync, and then Microsoft Project.  Both were easily resolved by entering in my user id/pwd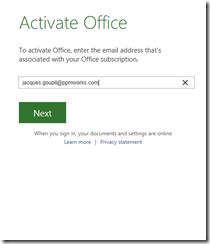 If you receive the following error then you will need to get a product key from your Admin and enter it

Otherwise you will see the Subscription Expired warning.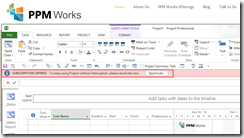 Then you can Manage Account to keep using Microsoft Project

Let us know if you have any questions – Leave a comment or Contact Us with any questions.
---
PPM Works is a full service Microsoft Project and Portfolio Management consultancy, focused on Microsoft Project Server and Microsoft SharePoint platforms.  We believe in partnering with our clients to exceed expectations and build long lasting rewarding partnerships. We are continuously building a knowledge base of multiple tips, tricks and solutions to make your use of Microsoft Project Pro as quick and easy as possible. Contact us for more information.
Stay updated with the latest of Project Online/Server 2013 with us: Subscribe. Check our future events!
Subscribe to our webcast email list for updates on our upcoming webinars! 
Visit our FAQ Page for access to our tool box.