Creating a New Calendar and Assigning it to a Task
To create a new base calendar to be used in your project, you will need to be an Administrator in PPM or ask your Administrator to create a new calendar.
For this example we will create a 7 day work week calendar, you will want to follow the below steps:
Open Internet Explorer
Go to PWA
Click Server Settings
Under Enterprise Data click Enterprise Calendars
If you do not want to keep any holidays, then you can create a New Calendar
If you do want to keep all of the same information, but change the days and times, then select Copy

Enter the Name your calendar and click OK
Once created click in the area of the new calendar and click Edit
Microsoft Project Professional will open and your calendar will be loaded
Click the Work Weeks Tab and click Details button
Select the days to apply as working times
Click the Set day(s) to these specific working a times radio button
Enter in the times that apply
Click OK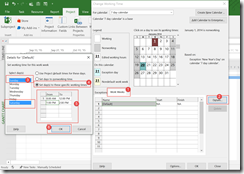 Once complete, you will have the ability to select the new calendar for your project.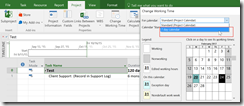 Assigning a Calendar to a Task
After the base calendar is created, you need to assign that calendar to task(s).
Select the task to apply the new calendar
Right-click the task, and then click to select Information, click the Advanced tab
Select the new calendar from the Calendar list.
If you have questions or would like additional information on how to deploy or configure, please contact us.