Project Server 2013 and Project Online offer new, expanded task management capabilities. This post looks at the three options available for managing project tasks when using Project Server 2013 or Project Online.
Option 1: SharePoint Task List Projects (Non Enterprise)
SharePoint Task List Projects, as the name implies, use a SharePoint task list for managing tasks. SharePoint task list projects are typically used during initial project stages or for projects with low complexity. SharePoint task lists support subtasks and include a timeline view.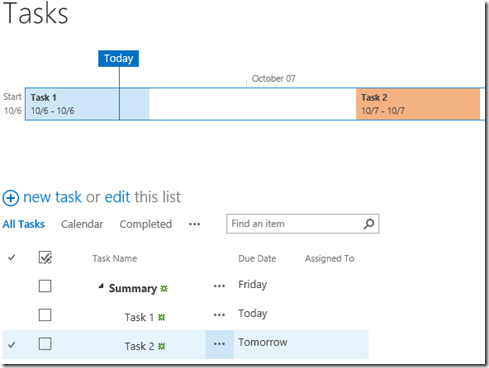 Additionally, you can manage tasks from SharePoint task lists using Project Professional 2013 by clicking Open with Project from the List ribbon.

There are several ways to create a project site for SharePoint Task List Projects. With a non enterprise (local) project plan open in Project Professional 2013, a project site can be created by clicking File >> Save As >> Sync to SharePoint.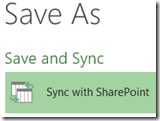 Alternatively, to create a project site from SharePoint click the Settings Menu >> Site Contents >> New Subsite and choose the Project Site template.
Tip: Create all project sites in the Project Web App (PWA) site collection. This allows the SharePoint Task List Projects to be linked as Enterprise Projects as discussed next for Option 2.
Option 2: SharePoint Task List Projects Linked As Enterprise Projects
If the SharePoint Task List Project is created in the Project Web App (PWA) site collection you have the option to link the project as a PWA Enterprise Project.
To do this, from the PWA Project Center, on the Projects Ribbon click Add SharePoint Sites.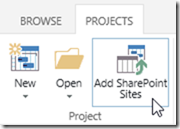 You have the option to link (add) any SharePoint Task List Project Site in the Project Web App site collection.
Some of the benefits of linking a SharePoint Task List Project as an Enterprise Project are:
Project appears in Project Center
Ability to use enterprise project fields configured for use with SharePoint Task List Projects
Ability to create a Resource Plan for the project
You can more easily view the resource availability of assigned resources
SharePoint Task List Project data is written to the PWA database for reporting
Note: You cannot link project sites that are already linked to traditional Enterprise Projects.
Option 3: Enterprise Projects
Enterprise Projects are the traditional type of projects used with the Project Web App. Compared to the first two options, Enterprise Projects offer significantly more management capabilities, such as workflow and resource allocation to tasks by percentage.
PWA Administrators can convert SharePoint Task List Projects Linked As Enterprise Projects to traditional Enterprise Projects by clicking the Settings Menu >> PWA Settings >> Connected SharePoint Sites, then clicking the Activate button for a project.
With traditional Enterprise Projects all tasks are managed either in the Project Web App (web based editing) or in Project Professional 2013.  The web based editing in the PWA is more advanced than web based editing of SharePoint task lists.
With traditional Enterprise Projects the tasks also sync to the SharePoint task list of the connected site.  However, the SharePoint task lists for Enterprise Projects are read-only because the PWA is used for web based editing.
Summary
In summary, all three options provide Project Managers the ability to manage tasks from a web browser or Project Professional 2013. The three options are listed in order of complexity and capability. Projects can be initiated with the option that best fits the management needs of the project. The system is designed so that as more project management capabilities are required, projects can be transitioned to the next, more advanced option.
---
PPM Works is a full service Microsoft Project and Portfolio Management consultancy, focused on Microsoft Project Server and Microsoft SharePoint platforms.  We believe in partnering with our clients to exceed expectations and build long lasting rewarding partnerships. We are continuously building a knowledge base of multiple tips, tricks and solutions to make your use of Microsoft Project Pro as quick and easy as possible. Contact us for more information.
Stay updated with the latest of Project Online/Server 2013 with us: Subscribe. Check our future events!
Subscribe to our webcast email list for updates on our upcoming webinars! 
Visit our FAQ Page for access to our tool box.